You are here
News and Events
---
Big Event kickoff celebration
Bloomsburg University's Community Government Association is hosting a Kickoff Celebration with free pizza and prizes on Wednesday, March 29, from 11:30 a.m. to 2 p.m. at Student Services Center front patio.
The Kickoff Celebration is a precursor to the Community Government Association's annual The Big Event. The Big Event is a large-scale community service project where students volunteer and work to clean and improve the town of Bloomsburg. In 2016, the event featured over 100 jobs sites with approximately 2,000 student volunteers.
The Kickoff Celebration will be giving away free pizza while supplies last and giveaways including tickets to the spring concert of Sublime and Rome and prizes from the University Store.
English professor presents a "Funny" reading
Jerry Wemple, professor of English, will present his recently published essay, "Funny" on Wednesday, March 29, at 5 p.m. at Bloomsburg University's Student Services Center room 004.
Wemple's essay was published in the journal, "Full Grown People" and it addresses the idea of ethnic ambiguity, and how different ethnic groups tend to claim Wemple, except for the one to which he is most biologically related. This essay references pop culture (Porter Wagoner), history, (colonial Maryland's anti-miscegenation laws), ethnography (Cape Verdeans in Massachusetts), and crime (a mass murder) in an attempt to sort out his Wemple's own complex family tree.
This event is sponsored by the College of Liberal Arts and is free and open to the public.
Harvard Press editor to discuss publishing
If academic publishing is a potential project in your future, Jeff Dean, executive editor of the Harvard University Press, will present Getting Published and Publishing Well on Thursday, March 30, from 4 to 5 p.m. in the Kehr Union Ballroom. Anyone interested in academic publishing should attend this free event. Dean will discuss the first steps of getting an academic book published and will explain the process and tips to making a book successful. There will be refreshments as well as a chance for questions and answers after the talk.
Dean is the executive editor for physical sciences and technology at Harvard University Press. He has been the philosophy editor at Wiley-Blackwell and the senior publisher at Focal Books. He studied German and philosophy at Oberlin College and went on to receive his M.A. and Ph.D. in philosophy from the University of Wisconsin-Madison. He has taught courses at the college and high school level in ethical theory, contemporary moral issues, aesthetics and the philosophy of art and environmental philosophy.
This program is sponsored by the Office of Research and Sponsored Programs with assistance from the College of Liberal Arts. For more information on the event, contact Steven Hales, professor of philosophy and director of the Office of Research and Sponsored Programs, at hales@bloomu.edu.
Mental health panel discussion
A Mental Health and Substance Abuse panel discussion will take place at Bloomsburg University on Thursday, March 30, at 5 p.m. in KUB Multipurpose Room A. The discussion is free to the public and encourages open discussion to work towards solutions together.
Mental health challenges may increase the use and abuse of illegal substances. Abuse of drugs and alcohol can increase the complexity of mental health issues. This creates a vicious, complex cycle among individuals. Come out Thursday and help to stop the cycle!
This is a "Think about it Thursday" event: a BU Health and Wellness collaboration with the Departments of Nursing and the College of Education, along with the McDowell Institute for Teacher Excellence in Positive Behavior Support.
Solo show opens at Haas Gallery of Art
Artist Blake Conroy opened his solo show at Haas Gallery of Art on Tuesday, March 28. The show runs from through May 3.
Conroy writes that he makes images of nature by cutting holes in the surface of either paper or metal. His subject matter is the minutiae of his environment. His practice is to draw with the intent of cutting material and still make a recognizable image.
The image has to hold together on the page as well as hold the paper/metal together. He will draw, then redraw an image, sometimes as many as three or four times. He will layer those images one on top of the other to add dimension to the drawing. His intent is to have his viewers see their surroundings in a new way
Susquehanna River Artists exhibit at Haas Center
The 4th annual Susquehanna River Artists exhibit is on display in the reception gallery of the Haas Center for the Arts at BU. The exhibit runs until Saturday, April 8 and is free and open to the public.
The exhibition titled "New Works" features works by local artists Robert Brown, Sara Mika, Glen Klein, Sara Baker, Annie Barnhardt, Donna Schaffer and Gail Fox. The Susquehanna River Arts group highlights the natural beauty and cultural properties of the Susquehanna River region. Many works on display are available for purchase.
Author featured in Big Dog Reading Series
Author Justin Torres will be reading his work as a part of Bloomsburg University's Big Dog Reading Series on Wednesday, April 5, at 7 p.m. in the Greenly Center lecture room in downtown Bloomsburg. This program is free and open to the public.
A national best seller, We the Animals has been translated into 15 languages and is being adapted to film. "Torres plunges us into the chaotic heart of one family, the intense bonds of three brothers, and the mythic effects of this fierce love on the people we must become," writes Amazon.
Torres was a Wallace Stegner Fellow at Stanford University, a fellow at the Radcliffe Institute for Advanced Study at Harvard and a Cullman Center Fellow at the New York Public Library. He was named one of 2012's "5 Under 35" by the National Book Foundation. The Big Dog Reading Series, sponsored by the College of Liberal Arts, hosts regionally and nationally known poets and writers to campus.
Husky Career Road Trip to WepageFX
Are you passionate about Internet marketing, web design or web development? Do you get jazzed about learning new tricks of the trade? Are you all about having fun while working hard? If so, here's Husky Career Road Trip for you to WebpageFX on Wednesday, April 12 in Harrisburg. Hear about this fast-paced, ever-evolving industry directly from Internet marketers, social media specialists and content marketers.
This trip is recommended for juniors and seniors but any student, in any major, can sign up. The bus departs from the Alumni House at 1 p.m. and returns to campus at 8:30 p.m. There is no cost but hurry to save your spot on the bus with your RSVP via Husky Career Link.
Survey seeks opinions of first year students, seniors
Take the National Survey of Student Engagement (NSSE) and have your voice heard! First-year and senior classes are invited to share opinions about their experiences at Bloomsburg University by completing it by Friday, April 7.
The survey reveals students' views on the quality of their education and their level of involvement in activities outside of the classroom. Results are used to improve the undergraduate experience and as a baseline measurement for BU's general education requirements.
In appreciation for their participation, students who complete the survey will automatically be entered into a random drawing to win one of 84 prizes: one $150 Amazon gift card, one of two $100 Amazon gift cards, one of nine $50 Amazon gift cards, one of three BU tailgate folding chairs, one of three BU stadium blankets, one of six BU travel mugs, one of five BU smartphone power banks, one of seven BU drawstring bags, one of 20 BU spirit flags, or one of 28 BU iPod armband holders. A student's chances of winning depend on how many students complete the survey; the last time the survey was administered, 635 students responded making a student's odds of winning roughly 1 in 8.
"All student responses are valuable for helping us compare the experiences they report with those of students at hundreds of other colleges and universities," said Sheila Jones, assistant VP for the Office of Planning and Assessment. "The results will also indicate important trends in undergraduate education. More voices will make results more valid."
Business students put to the test in sales competition
And it came down to three. Each with 15 final minutes to lay claim to Bloomsburg University's second annual BU/UPS Sales Competition that featured 18 student competitors, including representatives from Kings College and Wilkes University.
The day — organized and managed by Monica J. Favia, coordinator of Zeigler College of Business professional sales program — started with a competition round where each student had 15 minutes to present and close. Three finalists were chosen, who then had another 15 minutes for their final presentations with the same judging criteria.
Josh Salak, a senior business administration marketing and finance major, won the competition. Fellow finalists were runner-up Alison DiClemente, a senior business administration marketing major, and third place finisher Chris Mekosh, a senior communication studies major pursuing minors in economics and marketing.
Judges, who were all industry professionals, also looked at the students' communication skills and overall performance. The winner received an iPad Pro and custom Tom James suit. Second place received a Go Pro, while third place took home a phone projector. The competition also featured a career fair featuring UPS, Sprint, Quadrant EPP USA, CED, Gartner, ADP and Tom James.
Graduate students published in international journal
Having an article published in the International Journal of Play is not as easy as the word play might make it seem.
Even though most articles are about fun and games the submission process is anything but. However, that did not deter Bloomsburg University graduate students Kelly Conlon and Ryan Patterson, both of whom are pursuing master's degrees in special education and dual teaching certification in Special Education PK-8/Early Childhood PK-4.
"Writing the essay allowed me to look back and recognize important skills I learned from the game and my interactions with my friends, such as problem solving, compromise, creativity, and creating rules as well as abiding by those rules," Colon said.
Michael Patte, professor of teaching and learning, is an example of how Colon and Patterson want to teach in their future classrooms. Patte has a specialization in child life and in his classes, he teaches about how playing facilitates learning in young children.
"Since completing Dr. Patte's course, I've become excited in exploring the vast potential that different styles of play can provide for learners, especially those in early childhood education," Patterson said. "I hope to find myself professionally in a program promoting more opportunities for learning outside the current, conventional setting."
Language major lands competitive study abroad scholarship
You're currently spending the semester abroad and get a chance to stay for an entire year, would you? Cassandra Souza certainly did, not thinking twice about it.
It all began when Souza, a senior, decided to pursue two degrees in linguistics for Spanish and Arabic at Bloomsburg University. Her first study abroad trip took place in summer of 2015 during a six-week program to Fez, Morocco. That was just the start to Souza's journey.
"Before you study abroad people say 'culture shock is going to happen,'" Souza said. "It's very real. You're going to feel isolated, but I never felt like that. I didn't have culture shock going in, but when I came home is when I felt it. Reverse culture shock."
Souza planned to spend the spring semester in Spain but before leaving, her advisors and mentors — Yahya Laayouni, assistant professor of Arabic and French, and Mykola Polyuha, assistant professor of Russian and German — convinced her to apply for the competitive Critical Language Scholarship Program.
Souza is the fourth BU student since 2009 to win a CLS award, which is funded through U.S. Department of State.
"If anything, people hesitate to go abroad," Souza said. "There's this barrier where people don't decide 'I'm going to do it.' It's not as expensive as you'd think. I would just really encourage people travel. Bloomsburg has all of the resources available you just have to want to find them."
National Student Employment Appreciation Week
Bloomsburg will celebrate National Student Employment Appreciation week from April 3 to 7.
Bloomsburg's 2016-17 Student Employee of the Year is Justin Sharp, a senior secondary education major, who works as a BOLT support student trainer in the Instructional Media and Design Center. Sharp received a $500 scholarship funded by the Bloomsburg University Foundation. Second place finisher is Sarah Bartra, a senior communication studies major, who works in the Learning Communities Office. Bartra received a $200 University Store gift card.
The week's activities include:
Tuesday, April 4 – Student employee and supervisor are invited to participate in the Eleventh Annual Team Challenge, 10:30 a.m. to 3:30 p.m., Student Recreation Center.
Wednesday, April 5 – Free grilled hot dog and Rita's Ice for student workers and supervisors at 11:30 a.m. in front of the Warren Student Services Center.
Wednesday, April 5 – Student Employee Alumni Panel – Make your Student Employee Experience Shine, 3 to 4 p.m., Warren Student Services Center, room 004.
Thursday, April 6 – nominees for 2016-17 Student Employee of the Year will be recognized at a luncheon, Noon in the Kehr Union Building.
LGBTQA presents annual Ally Week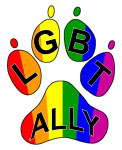 Join Bloomsburg University's LGBTQA for Ally Week starting Monday, April 3 for a full week consisting of continued trainings, workshops, chances to engage with members of the LGBTQA community, a day of appreciation for those that have gone above and beyond in supporting the LGBTQA community here on campus! All events are open free to the public.
Monday, April 3: Trans 101 Workshop KUB Multipurpose Room B, 5 p.m. Trans 101 is a one hour presentation that will briefly review gender, sex, and sexuality. It will focus on what it means to be transgender and how to support Trans identified people.
Tuesday, April 4: Bystander Intervention Training KUB Multipurpose Room B, 1 p.m. Looking for ways to confront homophobia, biphobia, transphobia, sexism, and other forms of harassment? Then look no further! Come and learn specific strategies to combat all forms of oppression! Co-facilitated by the Women's Resource Center.
Wednesday, April 5: Shades of the Rainbow Workshop KUB Multipurpose Room B, 11 a.m. All too often, the experiences of Queer People of Color go unheard of or are simply forgotten. This workshop will allow participants to explore what it means to be a queer person of color and how to appropriately support those individuals.
Thursday, April 6: SpeakOut! Panel KUB Multipurpose Room B, 4:30 p.m. Join members of the LGBTQA Community as they share their coming out stories and answer any questions you may have about the community!
Friday, April 7: Ally Appreciation Luncheon KUB Fireside Lounge, 11a.m. to 1 p.m. Join us as we celebrate and recognize those individuals that have gone above and beyond to support the BU LGBTQA community for the 2016-17 year. Light lunch will be provided!
Three nights to go "Beyond Communication"
Beyond Communication, a three-night session of plays entirely written, performed and directed by students will take place from April 5 to 7 at 7:30 p.m. in Mitrani Hall, Haas Center for the Arts. Tickets are free, open to the public but seating will be limited.
Each night will feature a different play by a different playwright in the Advanced Scriptwriting class, and will include a talkback session following the performances in order to allow the audience to give feedback to the artists.
Wednesday, April 5 — Creatures of the Night by Jonathan Lewis: It's another normal day for college student Scott Hawthorne as he tries to find his way in life. There's a quick shift, however, when he has a quick hookup with a hot demon hunter. Now the two of them and their friends must face off with a horde of demons and the mastermind behind them.
Thursday, April 6 — F-Bomb by Zach Hueston: War veteran Miles has the grueling task of meeting with his ex-wife today. Luckily, he has his daughter Lily with him to help keep the peace. Just as they plan to leave, Lily mysteriously disappears from the house, and Miles finds himself needing his ex to help search for her.
Friday, April 7 — Lily by Nate Stosius: Girl is having a grand old time cheating on her Boyfriend until he walks into the room. They break up, and Girl wants to use her freedom to have a fun night with her Friend. It's a great plan until the Boyfriend and the Guy she hooked up with won't leave her alone. It appears nothing can keep these two away, but excessive use of the F-Word doesn't hurt.
Green Campus Initiative hosts screenings, activities
After the Spill – The BP Deepwater Horizon oil spill changed parts of the Gulf of Mexico forever after 200 million gallons of crude oil were poured into the ecosystem over a period of weeks. This documentary explains how the worst ecological disaster in North American history, just five years after massive destruction from Hurricane Katrina, devastated the coast of Louisiana, all as coastal erosion continues to eat it away at an alarming rate.
Cindy Venn, professor of environmental, geographical, geological sciences, will help bring the problems of oil spills such as the BP spill or the Exxon Valdez spill in Alaska into focus with explanations and discussion associated with the film. After the Spill is scheduled for Thursday, March 23 at 7 p.m. in Kuster Auditorium, Hartline Science Center. And in coming weeks more films are being screened; activities and speakers as well are being scheduled.
Overburden, the second spring film focuses on coal and the complicated holds it has on Appalachian communities that can be harmed by mining and sustained by it. Overburden is scheduled for April 6 at 7 p.m. in Kuster Auditorium, Hartline Science Center.
BU's Earth Day observance is being planned and will be held on April 19 with details to be released as plans solidify. And Green Campus Initiative plans to screen spring's third film, Merchants of Doubt, that evening at 7 in Gross Auditorium, Carver Hall.
Being planned for April 27: Performing artist, Petersen Tascano, will enlighten the audience on climate change and a host of other topics as he weaves them together with comedy.
All of the programming is being sponsored by the Green Campus Initiative, some with additional partners.
Cheerleaders ready for next chapter
Cheerleading since she was a little girl, Alex Doughtery was destined to cheer in college. And not only that, she became captain. Dougherty, a senior exercise science major, leads a team of 20 at Bloomsburg University along with her three other captains. She helps teach new stunts, dances and cheers.
"Cheering has helped me with time management skills, leadership skills and meeting a diverse group of people," Dougherty said. "Cheering has brought a bond within our team, we do a lot of team bonding events and host pasta dinners. We come back from summer break a week early, when no one else is back, to practice for the upcoming season and it really brings the team together."
Try outs will be held on April 8 to 9 beginning with practice to learn all the material needed for try outs. The practice will be held at Nelson Field House, 8:30 a.m. to noon. Try outs will take place on Sunday, April 9, at 9 a.m.
Library Friends plan author's dinner
The Friends of the Bloomsburg University Library Association will hold their Fifteenth Annual Author's Dinner, on Friday, April 7, beginning at 6 p.m. at Monty's. Honorees and speakers are journalists Matthew Lysiak and his ten-year-old daughter Hilde.
Matthew Lysiak is a journalist and co-author of the young adult memoir of teen scientist Jack Andraka, Breakthrough: How One Teen Innovator Is Changing the World and author of Newtown: An American Tragedy. A former reporter for the New York Daily News, he has been a contributor on The Today Show, MSNBC, Fox News, and CNN. Hilde Kate Lysiak is the publisher of the Orange Street News, a print and online newsletter for which she has broken hundreds of stories in her hometown of Selinsgrove. She is also author of the upcoming book series "Hilde Cracks the Case" and recently reached a deal to produce a television series on her life.
For more information, menu options and reservations contact Steven Cohen at drscohen@ptd.net.
Block Party restrictions announced
Bloomsburg University and the Town of Bloomsburg, Town/Gown Relations Committee, will implement two initiatives to increase security related to the annual spring event known as "Block Party."
The new initiatives include:
Parking Restrictions — Bloomsburg University will temporarily close the Lightstreet Road Parking Lot and the ATM Parking Lot to all vehicles and temporarily restrict access to the First Street (Green) Parking Lot to permit-holders only from noon Friday, April 21, through noon Sunday, April 23.
Residence Hall Visitation Restrictions — Bloomsburg University will temporarily restrict overnight guests in the residence halls to one visitor per student for the evenings of Friday, April 21, Saturday, April 22, and Sunday, April 23. A professional security company firm will assist in managing guest registrations and enhance front door security.
IFA Scholarship Announcement
Bloomsburg University International Faculty Association is currently accepting applications for its annual scholarship. The value of the scholarship is $250 which may be used towards academic expenses. To qualify, applicants must be full time Bloomsburg University students with good academic standing and with genuine interest in fostering globalism and internationalism on campus and the community. Students from all colleges and all majors are encouraged to apply!
The application package includes:
Resume
An essay of maximum 500 words to describe the student's contributions to international relations and community activities
The complete application package should be prepared as one PDF file and must be submitted electronically to Naz Afarin Fallahian, chair of the scholarship committee of the International Faculty Association, nfallahi@bloomu.edu. The application deadline is Monday, April 3 at 5 p.m. The winner will be honored and awarded a check during the International Student Festival on April 14.
Alumna joins women's national rugby team
Watch the U.S. Women's National Rugby Sevens team play and you may see a familiar face.
Nikki Snyder, a recent Bloomsburg University nursing graduate and Women's Club Rugby team player, is competing professionally with the Eagles, recently in the HSBC Women's Elite Sevens Series in Las Vegas. She helped me place fourth out of 12 teams in the world. Recruits discovered Snyder during her years of playing on BU's club rugby team, which reached the National DII Rugby Tournament each of the last three years, including its first-ever trip in 2014. After receiving several invitations to private USA rugby camps, Snyder was selected to play for the Eagles team.
"The transition from Bloomsburg to international competition was a change," Snyder said. "When you play at a club sport level, you are playing against individuals, like yourself, who have just started learning about the sport. In international competition, you face individuals who have been playing the sport for years and understand the rules on how to play the game."
The entire experience was a challenge, Snyder explained. It was hard being the new kid on the block, but the team was accepting and encouraging. A particularly exciting moment for Snyder was when she started in the game against Fiji.
"My coach pulled me out of the locker room and asked me how I was feeling," Snyder said "I told him I was nervous but feeling really excited about the whole experience. He then asked how I felt about starting the next game, and I think my heart exploded right then and there."
Ice hockey caps Division II climb with league title
Two years ago, Bloomsburg University's Ice Hockey Club took a step up in competition and not only has proven its worth — it's now champion.
In just their second season competing in the Greater Northeastern Collegiate Hockey Conference as part of the Division II American Collegiate Hockey Conference the Huskies recently took home the league's championship trophy by defeating Kutztown University.
"Being with the team for four years and working so hard to get the program back on track, it's great to end my final season with a championship and seeing all the work pay off," said Matt Mastrogiovanni, senior forward.
The last few seasons have been building years. The club competed independently in Division III and during their 2015-16 season the team was noticed for being successful, ultimately invited to compete up a level in Division II. The Huskies continued their success into this season despite the heightened competition, defeating teams such as Bucknell University, University of Maryland and Le Salle University. The Huskies finished 18-4 overall and 11-1 in conference.
"These past four years have been a roller coaster ride for our program," said Kyle Gallen, senior defensemen. "It has been amazing seeing where were freshman year and ending our senior year as league champions! I couldn't be more proud of the boys and our coaches for such a successful season."
Shark Tank-style entrepreneur competition
More than 70 young, aspiring teams of entrepreneurs have registered to be part of Bloomsburg University's inaugural Husky Dog Pound competition, a Shark Tank-like battle for $50,000 in prize money, on April 18. The event is sponsored by the Zeigler College of Business, Microsoft, and Allan Darr from ProAct LTD.
The competition is open to Bloomsburg University students, Bloomsburg University Alumni, community members from Columbia and Montour counties, and high school students from across Pennsylvania.
The Husky Dog Pound Competition starts with a preliminary round called the Husky Den where competitors will upload 1-2 minute video presentations about their business idea. Teams moving forward will compete in a second round of the Husky Den requiring a 3-5 minute video presentation further explaining their business, while answering seven specific questions from the judging committee.
Nursing program ranked as most affordable in PA
A nursing degree from Bloomsburg University is ranked by College Choice as the most affordable nursing degree in Pennsylvania. Schools were ranked in each state by increasing value of the sum of the published in-state tuition and mandatory fees.
The rating places BU's nursing program above six sister institutions in Pennsylvania's State System of Higher Education: West Chester, second; Edinboro, third; Slippery Rock, fourth; California, fifth; Indiana, sixth; and Clarion, seventh.
College Choice is an independent online publication dedicated to helping students and their families find the right college. They publish rankings and reviews that make choosing the best college easier, as well as resources to help students get into, pay for, and thrive at the college of their choice.
Nursing program ranked third in state
BU's nursing program is ranked third in the state by RegisteredNursing.org. BU's program is the only Pennsylvania State System of Higher Education (PASSHE) school ranked in the top 10.
Nursing programs were assessed on several factors which represent how well a program supports students towards licensure and beyond. Among the factors surveyed was the pass rate for the NCLEX-RN exam, used by all state boards of nursing in the United States to help assess a student's competency for licensure. RegisteredNursing.org wrote that BU's programs are rigorous and demanding but offer real world clinical labs, patient-based theory and supportive faculty. Nursing graduates are prepared for professional life in an array of situations.
The ranking is the second time this year the Bloomsburg University Nursing program has received statewide recognition. In late February College Choice ranked a BU nursing degree as the most affordable nursing degree in Pennsylvania.
Campus construction activity for the spring
Campus maps show the facilities planning and construction project sites for 2017. The intent of the general map is to identify the locations and dates that will be affected, as well as identify the spring project.
As always, some projects will affect pedestrian and vehicular movements more than others. Those projects will be supplemented with additional phasing and traffic plans.
As projects progress, larger more detailed maps will be provided as needed to communicate details in advance of the changes. The two projects with the most impact on pedestrian and vehicular movements are the new residence hall and bookstore, and the Centennial Hall steam and condensate line replacement.