You are here
Current Season
2014 - 2015 Season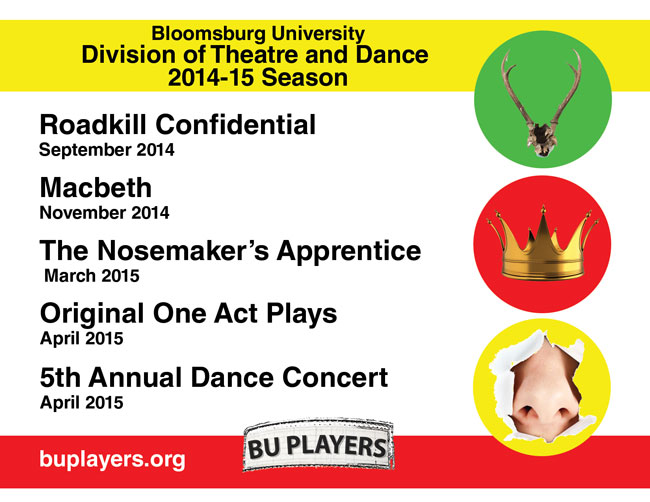 Roadkill Confidential

by Sheila Callaghan
A staged reading in the Theatre Lab directed by Julie Petry
September 19 & 20, 2014
"A possibly rogue g-man stalks a stalled-out artist with a suspicious affinity for accident victims. Traps are set, traps are sprung, and everyone gets caught.  Roadkill Confidential tackles, with style, humor and high theatricality, mediated violence and the numbness it produces, and, whether in art or in global politics, the ends can justify the means." (Samuel French, Inc.)
Macbeth
by William Shakespeare
A BU Players production in the AKT directed by David A. Miller
November 5-9, 2014
Macbeth, returning triumphant from battle, is confronted by three mysterious witches who prophesy that he will become king. Things just get more complicated from there.
Directing Projects: 10-Minute & One Act Plays
December 2014
A production of plays selected and directed by Student Directors in the Theatre Lab
The Nosemaker's Apprentice: Chronicles of a Medieval Plastic Surgeon
by Nick Jones and Rachel Shukert
A BU Players production in the AKT directed by David A. Miller
February 25-March 1,2015
"A father weaves a magic tale for his daughter to justify his unlicensed plastic surgery practice, tracing the origins of cosmetic surgery to craftsman in medieval Europe. The hero of this tale is Gavin, a young orphan rescued from a dismal existence in the Ivanhoe Workhouse for Criminally Impoverished Boys when he is apprenticed with the local Nosemaker, and who eventually becomes one of the finest surgeons in Vienna, cradle of quack medicine. Using innovative skin grafting techniques and cutting edge alchemy, Gavin and his master seek only to do the Work of the Almighty by restoring small appendages lost to rat bites, dueling, and syphilis. But when they are unable to help a powerful and mutilated knight recently returned from the crusades, they find their feet over the fire...literally. Hilarious, subversive, quasi-historical, and thoroughly debauched...a fated collaboration between two innovative (and troubling) writers." (Samuel French, Inc.)
An Evening of Original 10-Minute Plays
A staged reading in the Theatre Lab of plays written and directed by Students
April 2015
The 5th Annual Repertory/Ensemble Dance Minor Concert

A production in Mitrani Hall choreographed by Students & Faculty April 26 & 27, 2015


Audition Information
For audition information for all plays, visit the Auditions page.
For information about joining the dance program, visit the Dance Minor page.