You are here
LGBTQA Allies
What is an LGBTQ Ally?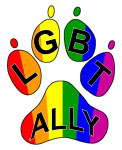 An ally is someone who supports and honors sexual diversity, acts accordingly to challenge homophobic remarks or behaviors and explores and understands these forms of bias within him- or herself. Just as it takes courage for gay, lesbian, bisexual and transgender people to be open and honest about who they are, it also takes courage to support your LGBTQ friends or loved ones.
There are many different ways that you can show your support for the LGBTQ people in your life. Again, there is no one "right" way to demonstrate your support – and being supportive does not require you to march in parades or become an activist. By opening up and being honest with the people in your life about knowing and caring for a LGBTQ person, you will be taking a small, but important, step toward making the world more understanding and supportive for that person.
If you would like to become an LGBTQ Ally please visit our Educational Programs page for details and to enroll in LGBTQA 101 and Ally Training programs.
We, the undersigned, believe that individuals should not be discriminated against on the basis of sexual orientation, gender identity, or gender expression. Moreover, we support the personal and professional development of all individuals at Bloomsburg University regardless of how or if they choose to define their sexuality or gender.
ACADEMIC ACHIEVEMENT
ACADEMIC ADVISEMENT CENTER
ACADEMIC AFFAIRS
ACADEMIC ENRICHMENT, DEPARTMENT OF
Sharon G. Solloway
Karen Hamman
John Barrett
Sharlene Gilman
Melissa Cheese
ADMISSIONS, OFFICE OF
Maramonne Houseknecht
Paul M. D'Angelo
AFSCME, LOCAL 2361
Terry Kramarz
Joyce Bielen
Eric Foster
ALUMNI AND PROFESSIONAL ENGAGEMENT
Lynda Michaels
Virginia (Ginny) Larson
Lauren Kross Polinski
ANTHROPOLOGY, DEPARTMENT OF
Janet Locke
Susan Dauria
David Fazzino
Faith Warner
APSCUF/BU
David Magolis
Julie Kontos
ART AND ART HISTORY, DEPARTMENT OF
Vincent Hron
Nogin Chung
Jason Godeke
Meredith Grimsley
David Kube
ATHLETICS
Michael McFarland
Kathleen Heitzman
Beth Brennan
Joseph Andreacci
John Sanow
AUDIOLOGY & SPEECH PATHOLOGY, DEPARTMENT OF
BIOLOGICAL & ALLIED HEALTH SCIENCES, DEPARTMENT OF
George Chamuris
Marianna D. Wood
Thomas Scott Klinger
Amy Long
Joseph Ardizzi
Clay Corbin
George Davis
Candice M. Klingerman
Cynthia Surmacz
BLOOMSBURG UNIVERSITY FOUNDATION, INC.
BU CARD CENTER
BUSINESS, COLLEGE OF
Joan Benek-Rivera
Traci Fetterman
BUSINESS EDUCATION AND INFORMATION and TECHNOLOGY MANAGEMENT, DEPARTMENT OF
Margaret O'Connor
Laura Davis
Christina Force
Carolyn LaMacchia
Loreen Powell
Mark L. Usry
CENTER FOR COMMUNITY RESEARCH AND CONSULTING
CENTER for LEADERIP AND ENGAGEMENT
George Kinzel
Kristin Austin
Timothy Pelton
Christine Gay
CENTER FOR VISUAL AND PERFORMING ARTS
CHEMISTRY AND BIOCHEMISTRY, DEPARTMENT OF
Bruce Wilcox
Toni Bell
Michael Borland
Christopher Hallen
John Morgan
Philip Osburn
Matthew Polinski
Michael E. Pugh
COMMUNICATION STUDIES, DEPARTMENT OF
Ruth Beerman
Dale A. Bertelsen
Janet Reynolds Bodenman
Erin Brummett
David Heineman
Mary King
Angela LaValley
Eric Miller
Philip Rippke
Shavonne Shorter
Kara Shultz
Anna Turnage
COMMUNITY OUTREACH, SUSQUEHANNA VALLEY FIELD SCHOOL
COUNSELING & HUMAN DEVELOPMENT, DEPARTMENT OF
William Harrar
Eric Affsprung
Sybil Holloway
Shell Lundahl
Sue Ei
DEAN OF STUDENTS, OFFICE OF
Donald Young
Jennifer Raup
Madelyn Rodriguez
Marcei Woods
Malik Muhammad
Monica Johnson
EDUCATION, COLLEGE OF
ENGLISH, DEPARTMENT OF
Betina Entzminger
Mark Decker
Ferda Asya
Mary G. Bernath
Janice Broder
Angelo Costanzo
Christina Francis
Randy Koch
Claire Lawrence
Michael Martin
S. Michael McCully
Timothy Oleksiak
David Randall
Terrance Riley
Danny Robinson
Theodore Roggenbuck
Anne Dyer Stuart
Julie Vandivere
A.G. "Jerry" Wemple
Stephen Whitworth, C
ENVIRONMENTAL, GEOGRAPHICAL AND GEOLOGICAL SCIENCESDEPARTMENT OF
Michael Shepard
Patricia Beyer
John Bodenman
Jeffrey C. Brunskill
John G. Hintz
Brett McLaurin
Laura G. Mock
Jennifer Whisner
EXCEPTIONALITY PROGRAMS, DEPARTMENT OF
Darlene E. Perner
Timothy P. Knoster
Deborah Stryker
Barbara Wilson
EXERCISE SCIENCE, DEPARTMENT OF
Eric Rawson
Joseph Andreacci
Kelly Dauber
Sheila Kaercher
Noah Wasielewski
FINANCE, DEPARTMENT OF
FORENSIC TEAM OFFICE
GLOBAL AND MULTICULTURAL EDUCATION, OFFICE OF
GREEK AFFAIRS
HISTORY, DEPARTMENT OF
Nancy Gentile Ford
Michael C. Hickey
William Hudon
M. Safa Saraçoğlu
Lisa Stallbaumer-Beishline
HUMAN RESOURCES & LABOR RELATIONS, OFFICE OF
Rona Anderson
Kristina Wood
Kim Seigfreid
Karen Hicks
INSTRUCTIONAL TECHNOLOGY, DEPARTMENT OF
Mary J. Nicholson
Tina Barnes
LANGUAGES AND CULTURES, DEPARTMENT OF
Christopher Donahue
Nathalie Cornelius
Jing Luo
Jesús Salas-Elorza
Luke Springman
LGBTQA RESOURCE CENTER
LIBERAL ARTS, COLLEGE OF
LIBRARY, HARVEY A. ANDRUSS
Wayne Mohr
Lissa Clark
Shannon Santoso
Marilou Hinchcliff
Kathryn Yelinek
LIVING AND LEARNING COMMUNITIES
Jennifer Hunsinger
Debbie Chamberlain
Mark Usry
Craig Young
Joan Benek-Rivera
Jerry Wemple
MANAGEMENT and MARKETING, DEPARTMENT OF
M. Ruhul Amin
Darrin Kass
Steven Si
MARKETING AND COMMUNICATIONS, OFFICE OF
Bonnie Martin
Eric Foster
MASS COMMUNICATIONS, DEPARTMENT OF
Jason Genovese
Richard Ganahl
David Magolis
MASTER OF BUSINESS ADMINISTRATION PROGRAM (MBA)
MATHEMATICS, COMPUTER SCIENCE, & STATISTICS, DEPARTMENT OF
William Calhoun
Kevin Ferland
Lisa Lister
Paul Loomis
Youmin Lu
Sandra Miller
Robert Montante
John Polhill
Mehdi Razzaghi
Michael Stephans
MINISTRIES, PROTESTANT
MULTICULTURAL AFFAIRS
MUSIC, THEATRE AND DANCE, DEPARTMENT OF
Stephen Clickard
Karen Anselm
Alan Baker
Bruce Candlish
Ethan Krupp
David Miller
Julie Petry
Tracey Schmidt-Jaynes
Matthew Slotkin
NURSING, DEPARTMENT OF
Margie Eckroth-Bucher
Mary A. Cegielsky
Cheryl Jackson
ORIENTATION OFFICE
PHILOSOPHY, DEPARTMENT OF
Joyce Bielen
Gary Hardcastle
Wendy Lynne Lee
Kurt Smith
PHYSICS AND ENGINEERING TECHNOLOGY, DEPARTMENT OF
Peter C. Stine
Karen Neese
Ju Xin
PLANNING AND ASSESSMENT, OFFICE OF
POLICE, OFFICE OF
John M. Kubik
Alex Karpinski
Robert A. Neiderhiser II
Tom Phillips
POLITICAL SCIENCE, DEPARTMENT OF
Neil Strine
Joyce Bielen
George Agbango
Sheng Ding
Pete Doerschler
Christopher R. Hallenbrook
PRESIDENT, OFFICE OF THE
David L. Soltz
Brenda Cromley
PROCUREMENT, OFFICE OF
PSYCHOLOGY, DEPARTMENT OF
Julie Kontos
Kevin Ball
George Chavez
Winona Cochran
Jennifer Johnson
Jeffrey Leitzel
Alison Levitch
Marion Mason
Eric Stouffer
QUEST
REGISTRAR, OFFICE OF THE
Nicole Lederer
Naomi D'Angelo
Raychel Gingrich
RESIDENCE LIFE, OFFICE OF
Tom Kresch
James McCormack
Amy Cunningham
Michele Stout
Lori Schmidt
Jennifer Turnbough
Ben Staub
Mark Turnbough
Marcei Woods
SCIENCE AND TECHNOLOGY, COLLEGE OF
Karen Davis
Troy Prutzman
SOCIAL EQUITY, OFFICE OF
Robert Wislock
Kate Bauman
SOCIOLOGY, SOCIAL WORK & CRIMINAL JUSTICE, DEPARTMENT OF
Alana B. Atchinson
Shiloh Erdley
Ronnie Evans
Heather Feldhaus
Christopher Podeschi
STUDENT ACTIVITIES & KEHR UNION
Jimmy Gilliland
Gretchen Osterman
Valerie Moyer
Kristi Getty
STUDENT AFFAIRS, OFFICE OF
STUDENTS WITH DISABILITIES CENTER
Robert Wislock
Darlene Perner
Jeanne Fitzgerald
Marybeth Bergen
Suzi Glowaski
TEACHING AND LEARNING, DEPARTMENT OF
Charles Starkey
Mindy Andino
Mark Bauman
Denise Davidson
Ralph Feather
Todd Hoover
Cherie Roberts
Beth Rogowsky
Michael Ruffini
Thomas Starmack
Caryn Terwilliger
David Walker
Craig A. Young
TECHNOLOGY, OFFICE OF
INSTRUCTIONAL MEDIA SERVICES
TECHNOLOGY SUPPORT SERVICES
THEATRE
Bruce Candlish
Sarah Stuble
TITLE IX COORDINATOR
TRiO STUDENT SUPPORT SERVICES, OFFICE OF
M. Theresa Bloskey
Toni Barrile
Denise Chaytor-Zugarek
TRiO UPWARD BOUND, OFFICE OF
John Kula
Christina Slocum
UNIVERSITY ADVANCEMENT
UNIVERSITY HONORS PROGRAM
UNIVERSITY STORE
UNIVERSITY TUTORIAL SERVICES
UNIVERSITY WRITING CENTER
WELLNESS CENTER
WOMEN'S RESOURCE CENTER
WORKPLACE SAFETY, OFFICE OF
Please send details of any errors or omissions to the LGBTQA Resource Center.